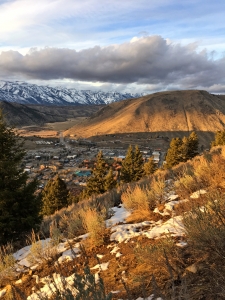 Today's Jackson Hole real estate activity:
NEW: Town of Jackson 3-bed, 1,767-square-foot home built in 1962 on .15 acres (single-family zoning), listed by Jackson Hole Real Estate Associates for $675,000.
NEW: Hotel Terra 3-bed, 1,446-square-foot condo-tel in the heart of Teton Village, listed by Jackson Hole Sotheby's International Realty for $1.449 million.
CLOSED: Teton Village 3-bed, 1,388-square-foot condo built in 1979 after 135 days on market, listed by Jackson Hole Sotheby's International Realty for $790,000.
CLOSED: Town of Jackson Mountain Sage 3-bed, 1,351-square-foot townhouse after 85 days on market, listed by Berkshire Hathaway Home Services for $730,000.
CLOSED: After 3,479 days on market, a half-acre 3 Creek Ranch building site originally listed for $1.295 million in May 2008, most recently priced at $895,000.
He had me at a reference to the 2013 Employee Generation Study … Commenting on a recent suggestion by Teton County staff that all year-round employees generated by development be housed on site or via fee-in-lieu payments, Teton County Commissioner Mark Newcomb defends the decision.
My Jackson Hole Sotheby's colleague Tom Evans is quoted in this Mansion Global story headlined "Buying a vacation home is about putting down roots, not making an investment."
Do you have questions about Today's Real Estate Facts or the broader market? Would you like a link to one of the properties mentioned, or a weekly email with recent listing activity for your target market segment? I am an Associate Broker with Jackson Hole Sotheby's International Realty. Contact me today for a personalized look at properties in Teton, Lincoln and Sublette counties in Wyoming.
"This is for informational purposes only and is not a solicitation for business. If you are currently working with a Realtor, contact them for additional information."