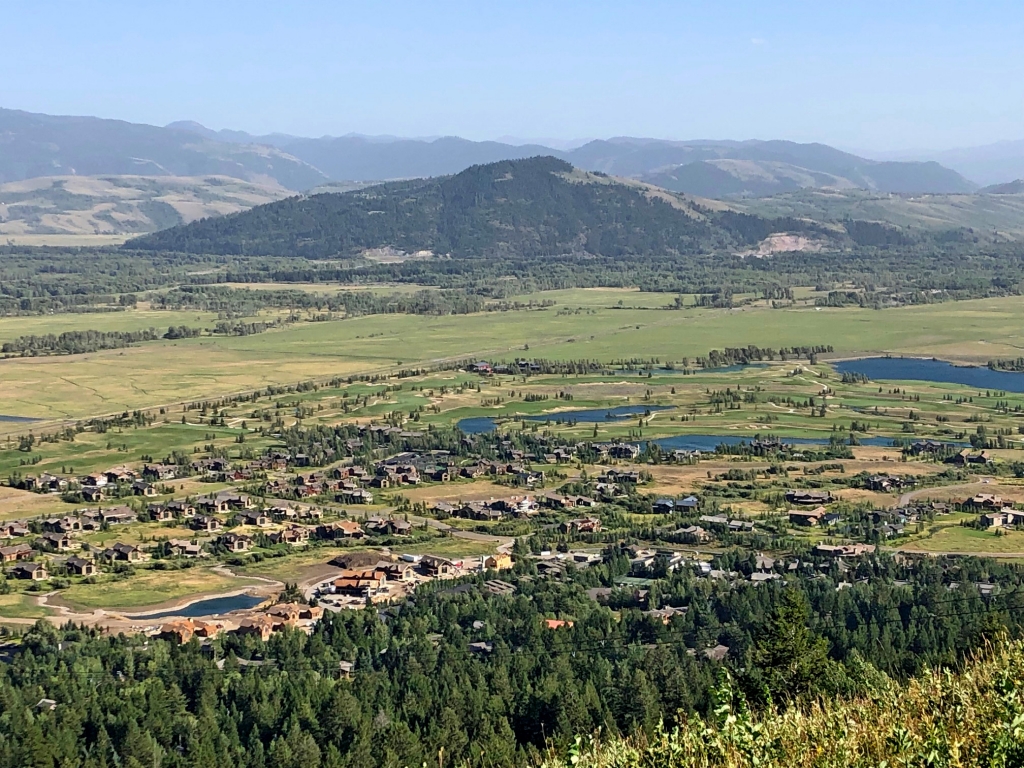 There are currently 52 residential real estate listings in Teton County priced higher than $5 million, with 25 percent of those homes located north of Jackson near the Jackson Hole Airport. The next greatest percentage of high-end homes can be found in Teton Village (10) and the Wilson area (11).
Unit sales and sales volume in this segment increased year over year, jumping 14 percent and 23 percent respectively to 31 sales and approximately $275 million in total sales, according to Teton County Multiple Listing Service. *
Notable sales in the last 12 months include:
The highest-priced property to close included a 3-bed, 2,110-square-foot home built in 1938, though the value was primarily in the 171 acres located less than 5 miles to the west of Town of Jackson. Listed by Jackson Hole Sotheby's for $22.9 million.
A 5-bed, 8,318-square-foot home on 13 acres in the Teal Trace subdivision, located about 2 miles south of Wilson priced at $18.5 million was the second-highest-priced home to close, selling in August after 88 days on market. Listed by Jackson Hole Sotheby's.
Of the 10 sales above $10 million, 3 were in Shooting Star in Teton Village and two of those were built in 2019.
Indian Springs Ranch properties represented 3 of the top 11 sales, with the most significant a 5-bed, 8,581-square-foot home built in 2011 on 4.72 acres listed by Berkshire Hathaway for $15.5 million and closed after 113 days on market.
Three other indicators – days on market, price per square foot and average sales price – also pointed to strength in the Jackson Hole real estate upper end market. Average days on market dropped from 292 to 237, price per square foot increased from $1,233 to $1,732 and average sales price for properties priced above $5 million rose from $7.64 million to $8.88 million
Active listings in this price range increased by 8 percent during the first quarter of 2019, bucking the overall trend since the 10-year high in July 2016. However, upper end listings fell into line with the rest of the market by falling 22 percent YTD since then. Meanwhile, listings priced below $850,000 rose by 30 percent with listings priced between $3 million and $5 million rose slightly by 4 percent.
Notable active listings (Link will expire on November 21 – contact me for an updated look at the market after that date) in this segment include:
Town of Jackson has 2 residential properties priced above $5 million, both on double lots (a third of an acre total) in Gill Addition, which is adjacent to National Elk Refuge and walking distance from Town Square. A 4-bed, 4,283-square-foot home built in 2014 priced at $5.175 million has been listed by Jackson Hole Sotheby's for 145 days; a 5-bed, 7,394-square-foot home built in 2010 priced at $5.95 million has been listed by Trinity Real Estate Group for 100 days.
An Amangani home with 5 beds, 4,963 square feet on .76 acres built in 2006 is listed by Jackson Hole Real Estate Associates for $7.495 million after 135 days on market. Another 5-bed Amangani home with twice the square footage built in 2008 listed by Century 21 Jackson Hole priced at $11.75 million is currently under contract after 546 days on market.
Wilson property with three structures featuring repurposed, relocated materials more than 200 years old including a 4-bed, 5,002-square-foot main home, 1-bed oak guest cabin and a 1,300-square-foot Amish barn. Listed by Jackson Hole Real Estate Associates for $5.95 million.
The highest-priced Jackson Hole residential property includes a 4-bed, 7,984-square-foot home built in 2010, 4-bed 3,618-square-foot guest home on 278 acres with a half mile of Snake River frontage north of Jackson in the Bar B Bar subdivision. Listed by Jackson Hole Sotheby's for $80 million.
Additional neighborhoods that include properties listed for $5 million or more include 3 Creek Ranch in South Park, Gill Addition in Town of Jackson, Gros Ventre North atop West Gros Ventre Butte, Amangani/Spring Creek Ranch atop East Gros Ventre Butte and Town of Kelly.
Please contact me with questions about these properties, a look at active and sold listings in these neighborhoods, or for a personalized look at the broader market.
* A high percentage of reported sales do not include the final sales prices. Sales volume has been determined by assuming final sales prices to be 95 percent of list price, the statistical average for reported sales. Also, many sales occur outside MLS and are not included in this analysis.